With so much going on these days in the world of beauty and makeup I think we can all get a bit confused and also lose sight of the basics..
We tend to love to put so many products on our face in the way of foundations, powders, lipsticks etc.. but what are we doing to restore the health of our skin? Do you cleanse and moisturise often?
I see it time and time again with so many clients. They want the whole kit and kaboodle with their makeup, but when I ask them what their current skin routine is, they cringe with a shrug.
There is absolutley no point going to all the effort of applying makeup on your skin to cover impefections, if you arent looking after managing those imperfections in a sustainable way. If your skin is dry, dont assume that, thats the way it is.. Or if your skin is oily.. that it will always have to be like that.
If your skin is dry, it may be that your dehydrated.. so ensure that you are drinking your 3lts a day. It sounds droney.. but I was having skin issues back in London and when I asked another artist, whos skin was to die for, what her secrets were- she swore on drinking the 3lts. And when I did, my skin improved dramatically.
At the end of the day, its only through your understanding and analysis of your skin that you will discover how your skin reacts to certain routines, products and handling. And its the 'handling' aspect that I wanted to chat about in todays wee post!
Ive spoken to several Senior Artists with MAC, annoyingly sucking them of as much information as they could give! And each one identified the importance of skin preparation before applying makeup. And its so true... when I apply makeup I love to use my hands to moisturise clean skin, working the cream into the surface..with the heat of my hands warming the skin. Applying pressure into the corners of the eyes and temples, increases blood circulation and so when its time to apply your foundation, the makeup should work itself easily onto the skin.. giving a flawless finish which glows.
For those with oily skins, you can still do this, just use oil controllers. ie. Gel cleansers, light moisturisers with silica in them (silica absorbs excess oils).
So, for beautifully flawless makeup, thats sits smoothly and creamily into the skin.. without looking heavy, flakey or patchy on the skin.. definately take the time to give your skin health some attention and enjoy the massage at the same time ;)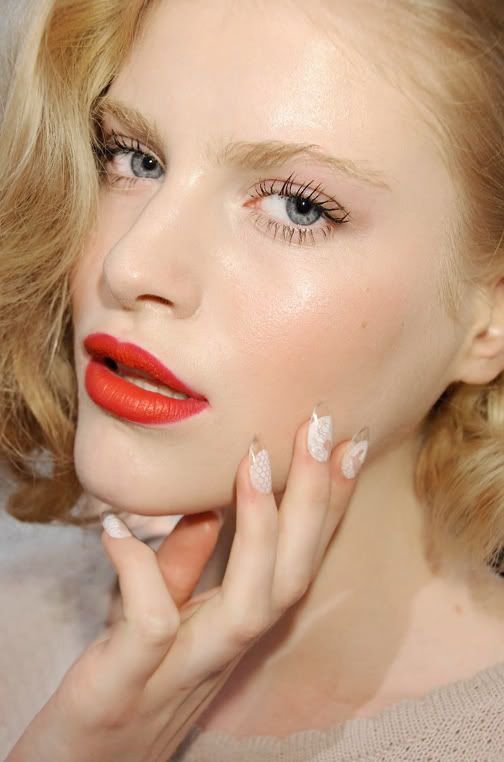 X