One trick of the trade that every makeup artist uses and sometimes you do as well (sometimes without thinking!) is contouring.
Whether its to slim down a rounder face, chisel out the cheekbones, narrow and shape a nose or change the demensions of a face, contouring is a really important step when doing your makeup. Below are some examples of contouring- from the extremes to everyday wear..
Vivienne Westwoood RTW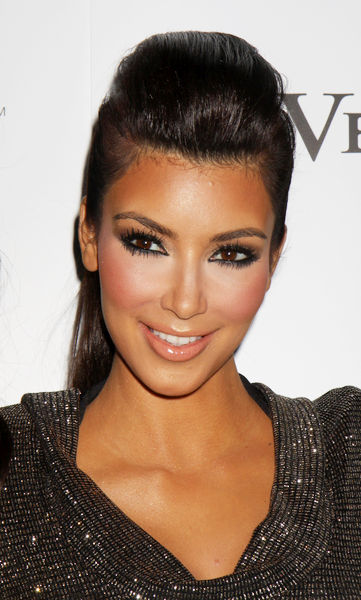 Kim Kardashian
Preen NYFW SS 2011
To ensure your contouring your face shape correctly .. analyse your face first! Stand in front of the mirror and assess your angles. Have you got a round, square, oval or heart shape? Have you round cheeks or a long jawline? Have you a wide forehead or a wider jaw, in comparison to the rest of your face?
Like I have mentioned before, when you put a darker colour on your face it takes back that area. When you put a lighter or highlighting colour on, it will illuminate it and bring it forward. So use this theory when applying your bronzer.
To lean out your face take your bronzer or darker powder and sculpt out your cheekbones by shaping the colour from the top of your ear down towards the corner of your mouth. By pressing the brush into this area you can feel where your cheekbones are. Dont but this darker colour on the cheekbone.
If you have a wide forehead, narrow it by applying the bronzer to your temples. If you have a high forehead, brush the colour along hairline (notice the first two images above has been done this way).
For someone who wants to slim down and define their nose brush the bronzer from the underside of your eyebrow at the top of your nose and shade down the side of your nose, rounding the brush around the underside of the tip of your nose. Any part you find protrudes more, shade the colour in that area further.
For those like me who wants to define their jaw more, shade under the jawline.
And now to highlighting! Highlight areas include.. Highest point of your cheeks (imagine an C from outside point of the end of your eyebrow down to underneath the eye on the cheekbone. Put highlight down the bridge of your nose, in the corner of your eye, on your cupids bow (centre section on the top of your lip) and depending on your eyeshape, underneath your eybrow.
BEST MAC PRODUCTS TO USE:
Bronzers:
Refined Golden
Mineralised Skin Finish in Medium Dark (or 1-2 shades darker then your normal shade)
Blush:
Tenderling
Coppertone
Cubic
Highlighters:
Vanilla Pigment (so so versatile..)
Soft and Gentle Mineral Highlighter
Gold Deposit (Dark skins)
Shell Cream Base

If you have dark skin and find it almost impossible to find a bronzer to help contour, depending on your shade, try a mineralised skin finish, Deeper Refined bronzer. And if your skin is very dark; try Carbon or Embark eyshadow!
Hope you find this works for you, because trust! Its an amazing tool to use in your makeup routine (and once used to it, takes virtually no time..)
Love xx